Contact Center as a Service (CCaaS)
A contact center based on CROC's Virtual Data Center is a multifunctional solution that combines the perfect scalability and reliability of CROC's Kompressor Data Center (certified by the Uptime Institute for TIER III compliance) with the relatively modest requirements for contact center agent equipment and supervisor workplaces.
CROC's virtual contact center features:
Service availability two days after a request
Ability to connect workforce management, recording and speech analysis
Agent workplace can be organized via web client on any computer connected to the Internet
Fast generation of any report on contact center performance and continuous service quality control
Free-of-charge service testing during the first month
The solution is designed for the deployment of geographically distributed contact centers and a short-term improvement in the performance of existing call centers during seasonal campaigns.
The service can also be used to increase the efficiency of sales departments (during outbound dialing campaigns) and an enterprise service desk or to organize the work of reception or dispatch service employees.
CROC's CCaaS Benefits:
Flexible solution structure allows for use directly out of the box, thus minimizing the number of agents, and for functionality to then be added as required
Simple and easy-to-use service since the entire cloud call center and its most demanded functions (recording, automated outbound dialing campaigns, etc.) are based on single developer products
Fast integration with the customer's existing multi-vendor IT systems
Reduction in WFM and speech analytics procurement, deployment and support costs due to the cloud-based delivery of these services
Cheaper contact center maintenance when outsourced to CROC
Features
Receipt and handling of voice, email, and web chat requests
Smart call routing
Interactive voice response (IVR)
Automated outbound dialing campaigns in Preview, Progressive, and Predictive modes
Recording of voice, email, and web chat requests
Agent workstation screen recording
Submission of customizable historical data and real time values
Built-in CRM
Integration with existing IT systems (CRM, databases, etc.)
Integration with systems boosting contact center performance (workforce management, speech analytics and synthesis)
Application Options
Standalone end-to-end solution (request handling: inbound and outbound calls, email, and web chat)
Increase number of agent workstations during peak seasons or one-time campaigns
Expand functionality of existing contact center (e.g. enable telephony system to handle inbound emails and web chat messages)
Arrange agent workstations based on outsourcing contact center (customer establishes and controls workstations and can instantly receive statistical data, with outsourcer's agents being engaged)
How to connect
Connection to a carrier's communication links is performed via SIP protocol and E1 frame, while agent workstations access CCaaS via encrypted VPN connection.
Operation options
CCaaS operation depends on a call type (incoming/outgoing) and a reception method (from an agent directly / via a PABX).
Contact center operation in case of an incoming call- 1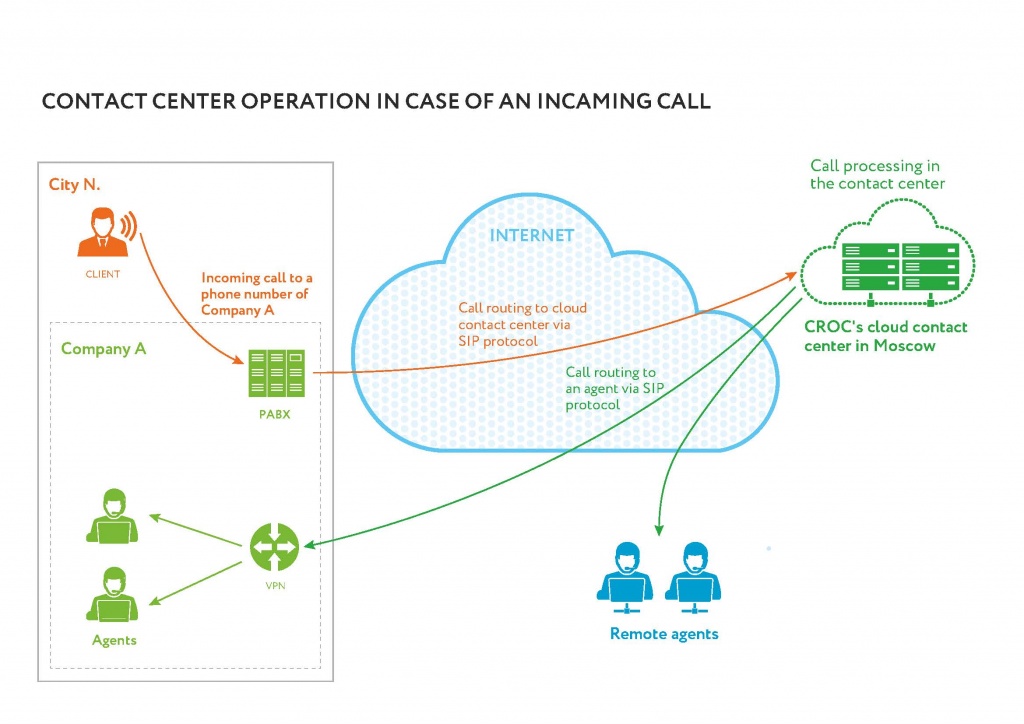 Contact center operation in case of an incoming call — 2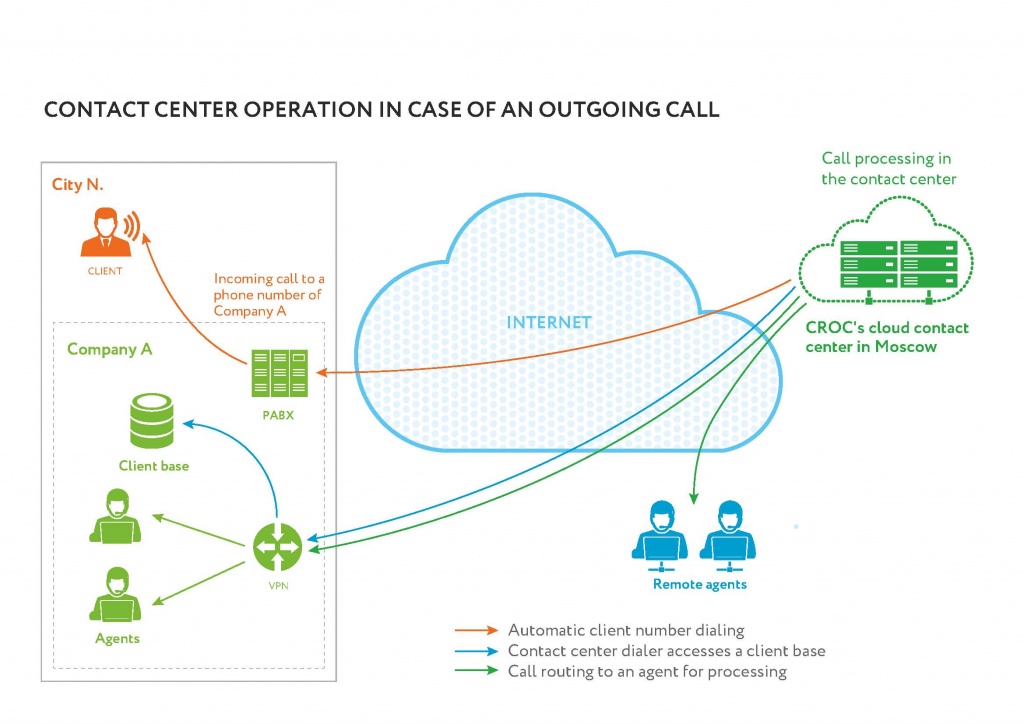 Contact center operation in case of an outgoing call — 1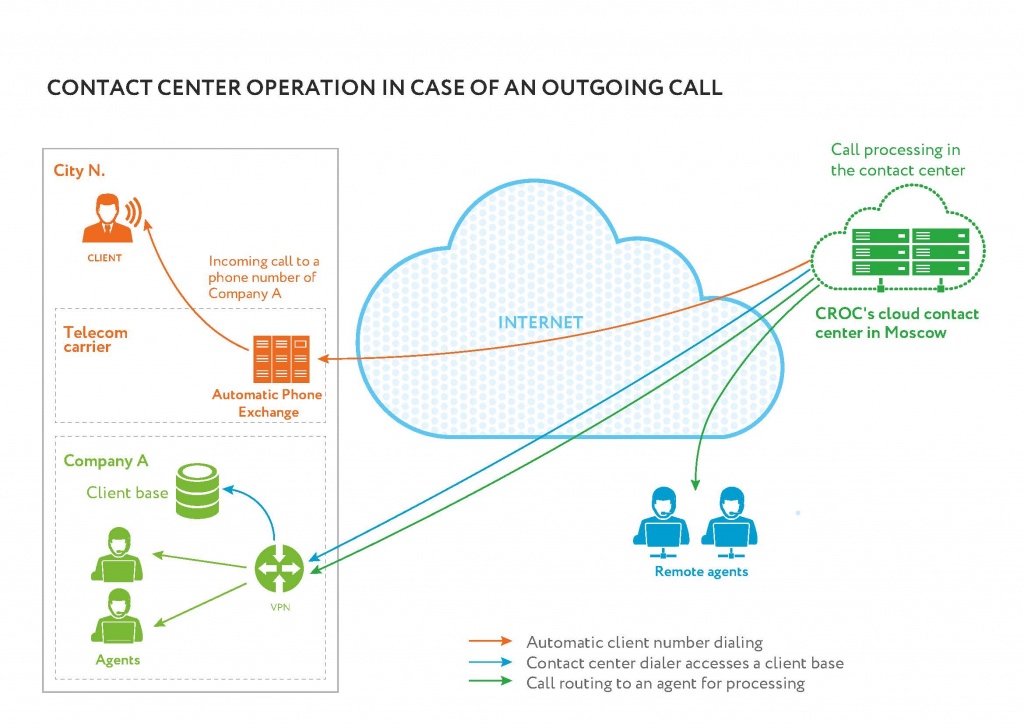 Contact center operation in case of an outgoing call — 2
Fault tolerance assurance
Data storage is guaranteed by CROC's Data Center security systems, including firewalls and IDS/IPS. The service is provided via secured VPN / SSL VPN channels. The Data Center is protected against DoS/DDoS attacks, viruses, and spam. Sensitive information is securely transferred between the customer's infrastructure and CROC's Data Center via an encrypted VPN connection, including the connection of remote agents. Hybrid cloud option is also available. In this case, several virtual servers (voice gateway, call recording and storage servers) are deployed in the customer's infrastructure, thus ensuring direct transmission of all voice traffic. The CCaaS based on CROC's Data Center only receives control signals, processes calls according to preset algorithms, and collects statistics.
The CCaaS operates in a multi-tenancy mode, with customers being granted access to their instance of the virtual contact center and managing it as a locally deployed solution. Instances of virtual contact centers are independent from each other and customers can enjoy expanded administration and configuration functions with respect to virtual CCaaS.
Service availability is ensured by CROC's Data Center infrastructure, including: data backup and recovery systems, redundant and emergency power supply systems, and backup data links. CROC's Data Center is certified by the Uptime Institute for compliance with TIER III requirements—which translates to 99.982% availability. Permanent availability of the CCaaS is ensured by backup of its components (voice gateways, recording servers, etc.) on CROC's side. In addition, some server resources can be deployed in a customer's infrastructure, thus allowing for the standalone operation of a service for some time. Virtual contact centers are periodically backed up using standard software tools.
Solutions for Improving Contact Center Efficiency
Call center workforce management
CROC's Workforce Management (WFM) as a Service allows customers to schedule and optimize call center workforce load and management activities. The service helps organizations improve staff performance and call center manageability, forecast peak loads for call center agents, maintain SLAs, utilize workforces effectively and improve customer service quality.
Solution Benefits
Long-term scheduling of staff work
Prompt adjustment of any schedule part
Convenient KPI monitoring tools
Ability to schedule various types of staff activity: inbound and outbound calls, and handling of email requests and chat messages
Stage-by-stage functional expansion
Rich analytical capabilities
Call record storage
The need to store the call records of call center agents and service desk engineers means that organizations have to continuously expand and maintain their enterprise data storage systems. To reduce CapEx and OpEx, CROC offers call record storage as a service.
Solution Benefits

Unlimited record storage period
Ability to control system utilization expenses by changing storage size
Call record analysis
The system analyzes call records made in call centers and help desks and, instead of routine call-by-call listening, allows for the smart analysis of data contained in audio files. The business analyst determines the call categories, makes a list of key words and word combinations and sets the conditions for detecting trends within each category.
The system then automatically processes the set conditions and pre-conditioned calls and returns the results in a user-friendly format.
Solution Benefits
Significant time savings since there is no need to listen to all calls
Rich analytical capabilities
Convenient KPI monitoring tools
Ability to reprocess all calls based on other analytical criteria
Processing of calls between Russian speakers
Rapid processing of a high number of conversations
Analytical system for contact centers
Contact centers need special-purpose business intelligence tools for effective analysis of call flow and agent performance statistics, as well as to ensure that an IVR portal operate properly. Such tools accelerate the searching, processing and generating of analytical information on all contact center performance indicators, streamline management decision making, and enhance efficiency. In addition, all data can be visualized in order to ease manager/user perception, using report or diagram templates.
Solution Benefits
Unified methodology with any data granularity and for any contact center
Prompt expansion of the basic solution model in line with contact center's needs by easily adding new indicators if necessary
OLAP principles and multidimensional modeling (de facto standards for analytical tools)
Communications
01
Have a similar task?
Contact us
Grachev Mikhail
Cloud Telecom Service Development Manager
Svetlana Vrublevskaya
Head of Telecom Equipment Service and Maintenance