Customer behavior Wi-Fi analytics based on Cisco CMX
Free and stable Internet access makes any public place (shopping mall, stadium, park, hotel, airport, etc.) more comfortable and attractive for visitors. Facility owners and advertisers can leverage Wi-Fi to analyze visitor behavior and tailor their business processes respectively: detect points of attraction, analyze goods arrangement efficiency, evaluate advertising campaign performance and visitor loyalty, push targeted content, induce people to make more purchases spontaneously, etc.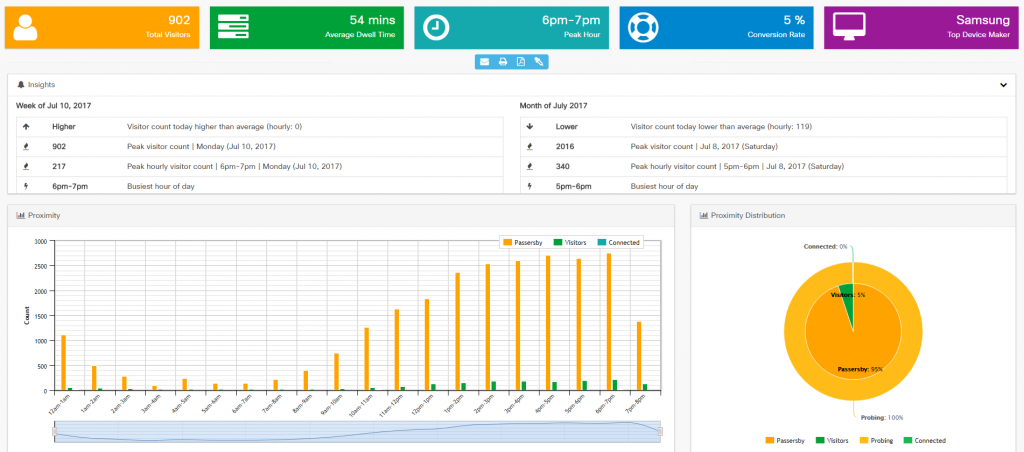 The analytics system collects special markers from visitors' mobile devices within the area covered by a Wi-Fi network. These markers help collect statistics on the most visited zones/shops, detect recurring visitors and map their routes, identify peak hours, etc.
Features
Visitor flow analytics (presence, zone traffic, stay time, repeated visits);
Advertising campaign evaluation;
Brand loyalty improvement;
Business process efficiency improvement.
Benefits
Improved sales and optimized costs;
Harmonized rental rates;
Scheduling of local advertising campaigns to cover peak hours and conversion assessment;
Optimized personnel distribution by zone based on attendance.
Communications
01
Have a similar task?
Contact us