Virtual private cloud (VPC)
CROC's optional cloud services include the integration of a cloud platform's virtual networks with a customer's private networks, i.e. the creation of an isolated virtual network environment (Virtual Private Cloud, or VPC).
VPC is a completely isolated segment of a cloud platform and is only accessible from outside the cloud;
VPC supports the arbitrary configuration of internal network addressing space, thus allowing customers to configure their in-cloud network environment in the most desirable or convenient fashion;
Support of automatic creation of IPsec VPN tunnels and connection configuration via a self-service portal;
Support of static and dynamic routing (BGP) configuration on a self-service portal.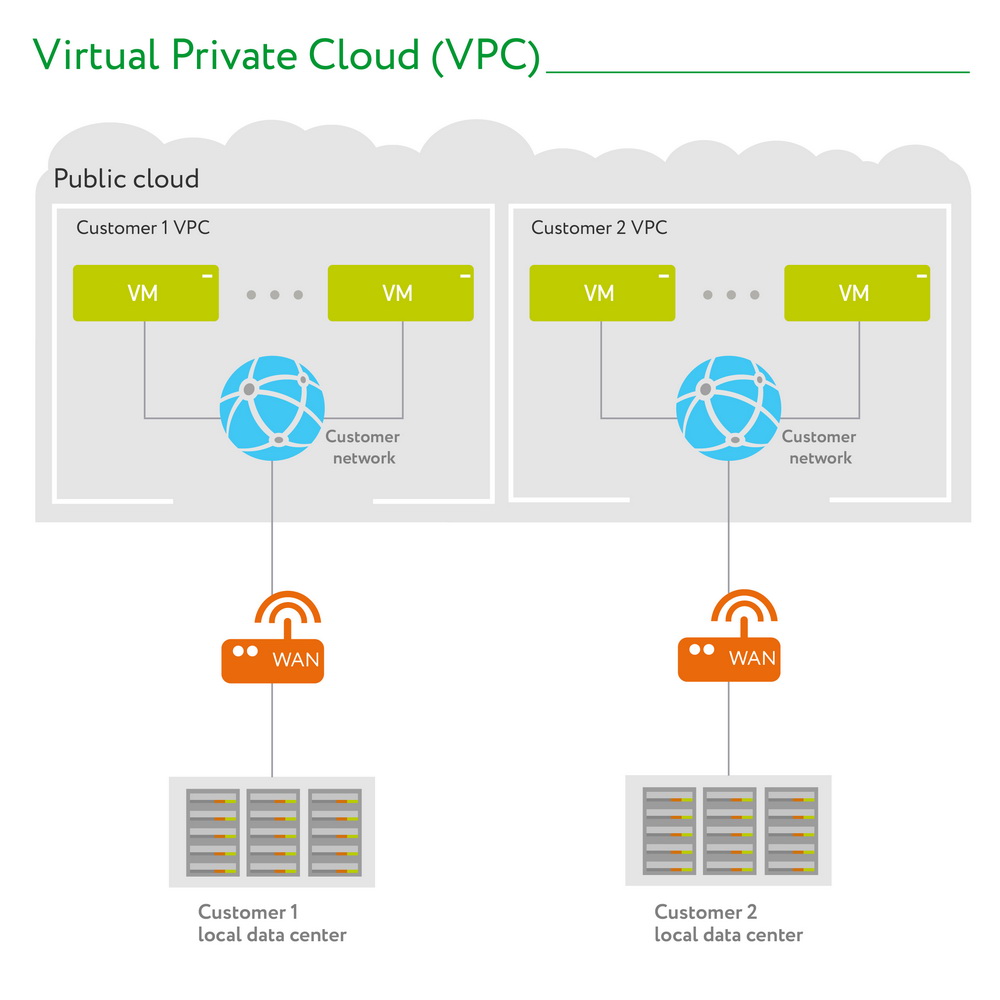 01
Law compliance
Compliance with all personal data protection system requirements up to Security Level 3
02
Certification
ISO/IEC 27001:2013 certified information security management system
03
Managed service
Selecting service scope in line with tasks and budget
04
99.95% reliability
Powered by two distributed CROC's data centers
05
Information security
Support of security standards, including encryption
06
Compliance
PCI DSS, ISO 27001
07
Manageability
Easy to administer, manage versions, and analyze
08
Nothing more convenient
Management via a personal console
09
Nothing more to worry about
Backup outsourcing as a managed service
010
Protection against force majeure
Data is stored in two separate CROC's data centers
011
Versatility
Support of the most common operating systems, mail servers, and virtual farms
012
Reliable IT twin
In case of any problem, instant switchover to a cloud-hosted infrastructure replica
013
Unique customer experience
Data storing in the Tier III Operational Gold data center, with only three such sites available in Russia
014
Replication
Only proven clustering and replication tools
015
Turn-key infrastructure
Based on a cloud platform or rented equipment from data center
016
Flexibility and scalability
Quickly expanded infrastructure
017
Professional services
Staff shortage is no longer a problem
018
Managed service
Select service scope in line with your tasks and budget
019
Excellent performance
Cloud-based web page downloading in a fraction of a second
021
Convenience
API compatible with AWS
022
True disaster recovery
Two sites available
CIO
No need to maintain dedicated staff to protect personal data systems in line with regulatory requirements
CEO
No more risk of penalties imposed by Russian tax authorities
CFO
The service cuts IT expenses by up to 30%
CSO
Compliance with Russian regulatory requirements
CIO
Effective management of static content and unstructured data
CEO
Faster apps accelerating business processes in general
CFO
Predictable IT costs on a quarterly pay-as-you-go basis
CSO
Secure data exchange
CIO
Less routine, more time and resources for development
CEO
Everyone does what they do best: we are building our business, while a cloud provider ensures infrastructure support and reliable service
CFO
Now, we know how to reduce CAPEX and optimize payroll budget
CSO
No one can alter information either accidentally or maliciously
CIO
Business continuity entrusted to professionals
CEO
Business processes run like clockwork
CFO
Backup site in a cloud is more cost-effective than creating your own data center
CSO
Service provider has all necessary licenses and certificates and employs certified protection tools
CIO
Addressing the challenge of insufficient capacity for business systems during reporting periods or at peak load
CEO
Now, IT team can concentrate on automation and transformation of core business
CFO
We got an effective solution to reduce CAPEX and manage IT spending transparently
CSO
Infrastructure meets all reliability and security requirements
CIO
I address key challenges without wasting time for administrating hardware
CEO
My company is getting more agile during business transformation
CFO
I got an effective solution to reduce CAPEX and manage IT spending transparently
CSO
This cloud employs certified protection tools
Company
03
Why CROC Cloud Services
Uptime Institute Tier III Operational Sustainability Gold
In service provision maturity
Express infrastructure audit
Audit of customer's infrastructure
Building of cybersecurity perimeter in line with a threat model
Assistance in passing FSTEC certification
Annual penetration tests
Pilot project launch in 10 minutes
System and service migration without downtime
Technical support and managed services
DRP development