Servers
CROC offers virtual machines (VMs) with flexible scalability (up to 384 GB RAM) and hosting in the cloud based on two distributed data centers. VMs are highly available by default and are re-launched on free platform servers in the case of equipment failures. Moreover, CROC also offers VMs with preinstalled system and application Microsoft, Cisco, SAP HANA, Red Hat, Citrix, and Oracle software provided under respective vendor subscription programs.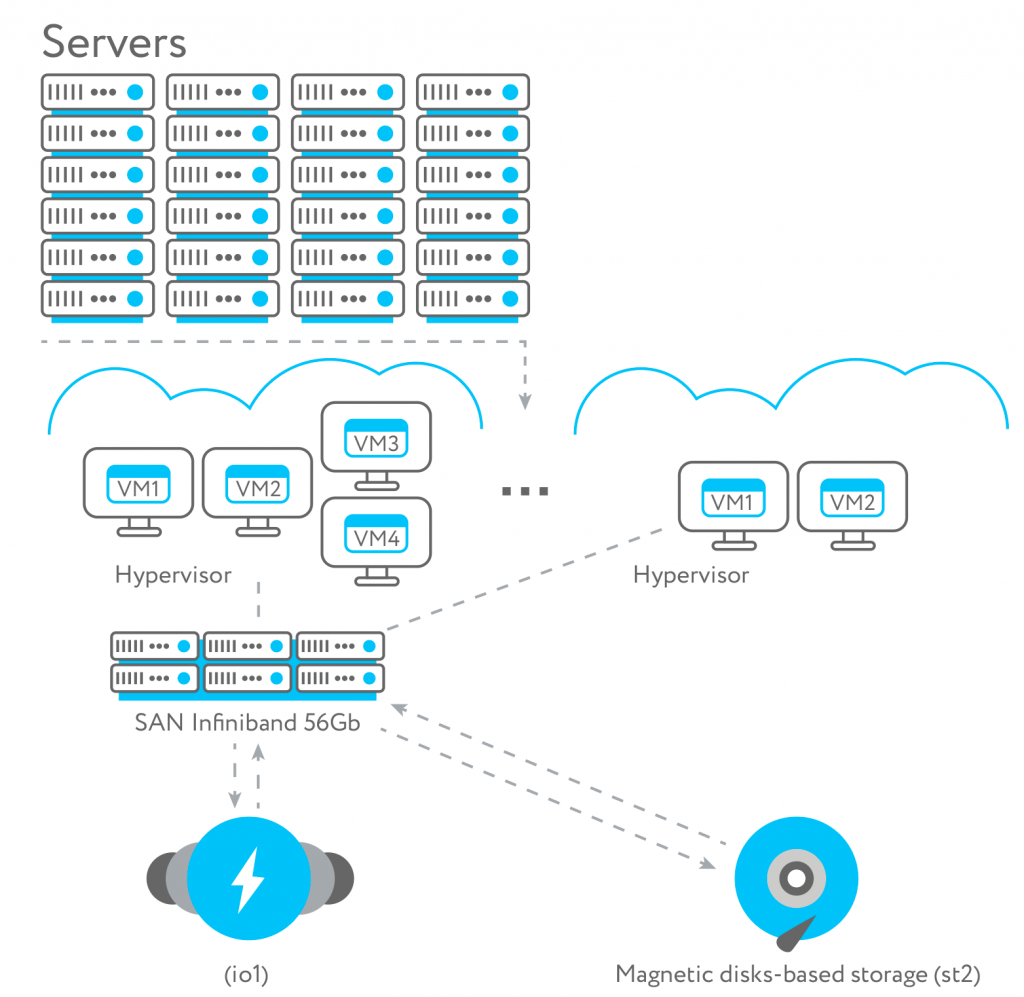 Disks
CROC offers virtual disks based on all-flash data storage (guaranteed performance of 400 to 10,000 IOPS) and HDD storage without performance guarantee.
The first type is perfect for applications that require consistently high performance and minimum I/O delays, while HDDs are used for less resource-intensive tasks.
In addition to virtual disks directly connected to VMs, CROC also provides access to object-based data storage which is compatible with Amazon S3 and used to upload media and web content, backup copies, and archived data. Such storage can be managed from both inside (VM) and outside (home PC) the cloud.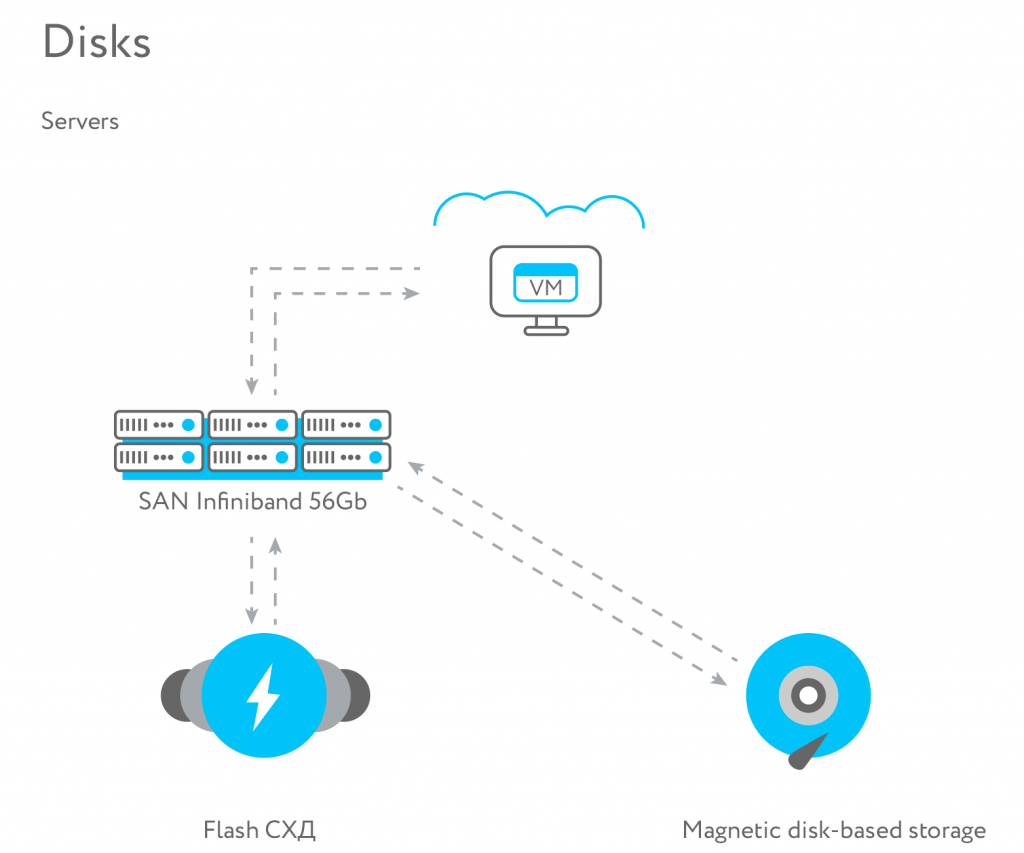 Networks
Self-service portal allows creating the required number of isolated virtual L2 networks with L3 connectivity:
Data network is based on 56 Gbps InfiniBand FDR, thus helping to dramatically reduce VM interaction delays;
Software defined networks (SDN) operating over traditional equipment ensure security, flexible administration, and smart traffic management.
CROC's cloud features:
Create any required number of isolated networks via a self-service portal;
Manage access to these networks from other networks via different ports and protocols with the help of an integrated firewall (by default, everything is prohibited that is not permitted explicitly);
Use NAT service (the assignment of external static IP addresses to internal addresses) as well as routing, DNS, and DHCP services;
Deploy L3 networks between CROC's cloud and customer's site (IPSEC VPN);
Connect physical networks at the customer's data center to virtual networks of CROC's cloud at a speed of up to 10 Gbps.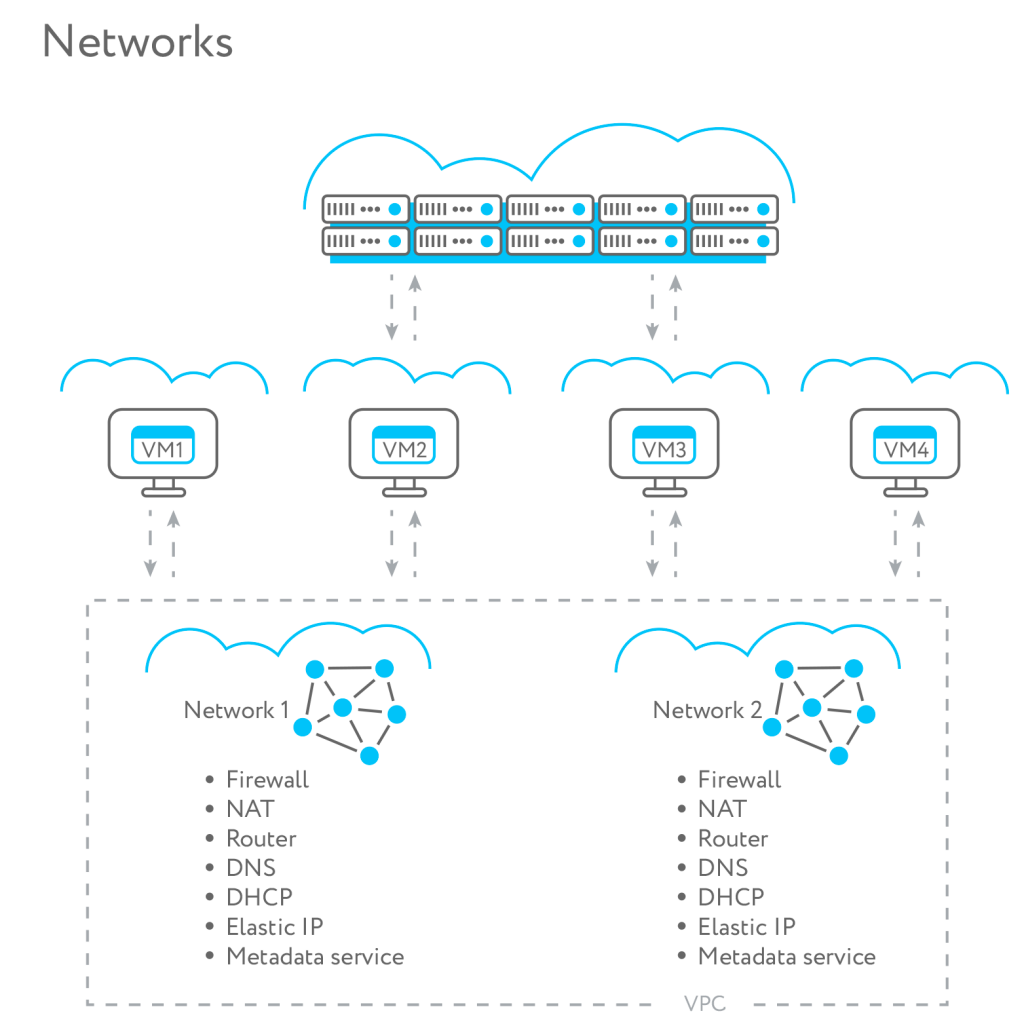 Billing
Clear and predictable payment for consumed cloud resources, using the system certified by the Russian Ministry of Communications and Mass Media.
CROC's cloud billing features:
No minimum requirements regarding bookings for computing resources at the beginning of the reporting period;
No advance payments;
Postpayment;
Work paid in rubles;
Servers, disks, and file storage space are accounted for and billed on a per-hour basis;
Billing is based on the selected configuration of a virtual server (without considering current utilization profile) and the template (image) used for the server launch;
If a server was created from CROC's template that included licensed software (Microsoft Windows, Red Hat) then billing will be at a higher rate that includes royalties payable to the respective software vendors;
There are three modes of server billing based on server status:

If server is turned on then charges are based on the selected server configuration, disk space, network traffic, and external IP address (if assigned);
If server is turned off then charges are based on the used disk space only;
If server is removed then system disk is also removed automatically. In this case, charges will be only based on all additional disks until they are removed manually.